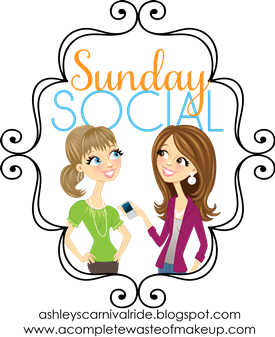 Today I'm linking up to A Complete Waste of Makeup's
Sunday Social Link Up
, as well as answering this weeks set of questions.
How did you come up with your blog name?
Chase All Your Dreams is a line from a song, Let It Ride by Automatic Loveletter. The line is "chase all your dreams and don't let them go". It's something I strongly believe in.
What is your favorite thing about blogging?
Everything! I love thinking about what I want to write about, writing the actual post, stating my thoughts, the weekly theme posts, "meeting" different bloggers, etc.
W
hat is one thing you have discovered because of blogging and now cant live without?
There's really nothing new. I had twitter before this blog, I had Facebook already, I had Tumblr already, etc. Nothing is new to me anymore. Name something and I probably have it (or heard of it).
Facebook or Twitter? and why?
Twitter, definitely! Facebook isn't not my favorite site anymore. I still have one, but it's getting old and lame and it sucks. Need I say more?
If one celeb read your blog who would you want it to be?
Oooo, that's tough. My favorite actor is Johnny Depp, but I wouldn't choose him. So I really don't know.
What is something you want people to know about your blog?
My blog is where I'm able to post my thoughts, the things I like, etc. It's basically me in a nutshell! Oh, and it's also where I believe in dreams/dreaming. "Your dreams must be bigger than your fears" - Christian Climer - That's the motto of my blog!
Have a lovely evening!
xoxo