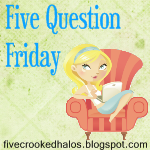 1. What were you scared of as a kid?
I was scared of a number of things: heights, death, (still scared to this day), needles, etc.
2. Do you sleep well in a hotel?
Not really. The first night is the worst for me, I'm up all night! Then the next few nights get better, but I still don't sleep like I do at home.
3. If you could meet any celebrity, dead or alive, who and why?
Hmmmm....that's a tricky one. I'm going to have pass on that one.
4. It's a hot summer day. Do you prefer to be pool side or at the beach?
Pool side definitely! I hate the beach!
5. What is your favorite summer dish?
Anything off the grill, BBQ, and ice cream.
Have a lovely day!
xoxo