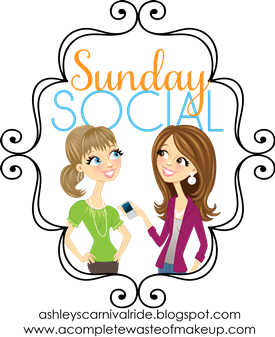 What is currently on your wish list? Clothes, beauty products, scarves, jewelry; but mainly beauty products. I'm obsessed with them right now.
Share a new iPhone, droid, iPad app that you have recently discovered that we all need. Better Homes & Gardens' Must Have Recipes. It's such great app if you need last minute recipe ideas. Also, it's great while you're shopping. If you forget some ingredients, you can look up what you need. It's so handy and the best part is you don't waste any paper.
What is a new fall tv show that you have added to your dvr? I don't like any of the new fall shows.
Share your social media links so we can follow you. (Pinterest, Twitter, Instagram, etc) Tell us which is your favorite and why.
I love Pinterest, so many ideas on that site. It can keep me busy forever! I also love Instagram. I love sharing my pictures with others, seeing other people's pictures, and connecting with them. It's like Twitter and Piterest put together!
You can follow me on Pinterest, Instagram, Facebook, Twitter, Bloglovin, Google+, and Tumblr.
What is a tv show, movie, or song that you could watch or listen to over and over and never get tired of?
Movies: Pirates of the Caribbean and Despicable Me
Songs: Gosh! There's so many songs. Anything by The Saturdays, Ellie Goulding, Lady Gaga, Little Mix, Pink, Rita Ora, Imagine Dragons, Youngblood Hawke, Blackmore's Night, Lissie, Tonight Alive, Tegan and Sara, etc. Also, Can't Hold Us by Mackelmore.
xx Courtney